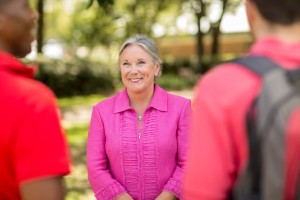 Martha D. Saunders has lived an extremely ambitious professional career in Education which spans multiple decades and has a very long list of achievements to show for it. After graduating with her Ph.D. in Communication Theory & Research from Florida State University in 1990, Martha embarked on a professional career that has shaped minds in higher education and improved the overall collegiate educational system in the four universities in which she has dedicated her time, hard work, and passion for Education.
Martha D. Saunders, University of West Florida
From 1984 to 2002 and then, again, from 2013 to present, Martha D. Saunders fulfilled a number of important career functions to the University of West Florida.
From 1986-1996, Martha served as Coordinator, Public Relations Program, Dept. of Communication Arts for UWF, where her primary duties were to develop curriculum/programming to meet AEJMC accreditation, increase program size, and liaison with national/state entities in a PR capacity for education betterment.
From 1996 to 1999, Saunders served as Director of University Honors Program, as well as Associate Dean, College of Arts and Social Sciences, acting as the primary administrator for educational excellence program and overall admissions/university management.
From 2013 until present, after a hiatus to other institutions, Martha D. Saunders came back to work as Provost for University of West Florida and Professor of Communications.
Martha D. Saunders, University of Wisconsin
From 2005 to 2007, Saunders found success for the University of Wisconsin-Whitewater as Chancellor. Here, she fulfilled collegiate needs for everything from planning and athletics to capital projects and accreditations.
Martha D. Saunders, University of Southern Mississippi
From 2007 until 2012, Martha D. Saunders furthered the academic and administrative efforts of the University of Southern Mississippi as University President and Professor of Communications. Chief wins from USM for Martha D. Saunders included: record student enrollment and recruitment numbers, increased average ACT scores, as well as a myriad of facilities improvement projects.
Martha D. Saunders, Columbus State University
From 2002 to 2005, Martha D. Saunders planned, improved and fulfilled university goals for Columbus State University, University System of Georgia, as Vice President for Academic Affairs. These included but were not limited to: the increase in attendance, effective development strategy, and community PR.